the one with Tatum + Callan getting married at St. Joseph's Church in Rhineland
These two give me ALL the feels! Like ALL of them!!! This is Tatum and Callan and their wedding was so much fun, filled with dancing and the BEST wedding food, I've most likely ever had. And please believe me. I've had TONS of wedding food! Expensive wedding food, cheap wedding food, no wedding food, different wedding food than the guests, etc. You get the picture! I've had it all! And if you've seen me and looked at my belly, then you know I LOVE TO EAT! Take my word for it, Rhineland's wedding food is the BEST!
Okay, on to the pictures!
Tatum's gorgeous ring! I try and photograph these during the bridal prep time. You know for insurance purposes should you lose it or just because I adore diamonds! I like photographing weddings for all the emotional feelings, but golly, I REALLY love photographing diamonds!
This is Haley, who's wedding I photographed last summer. And who is so much fun I want to quit my job and just hang out with her all day. ALL DAY.
Ring lights are the best. I wish I could walk around with one in front of me all day. I love them so.
Does anyone else want a ring light? Ring lights are the best. I wish I could walk around with one in front of me all day. I love them so.
See, now don't you wanna join me in my "quit my job" idea? She's this fun all the time!
Hello, pretty shoes! I couldn't decide if I should keep them in color or black and white...hmm...

But they are seriously so dang pretty. This is what you call a "sexy shoe".
and once I saw the dress...I knew why those shoes were so S E X Y
HELLO!
Check out this dress!!!!
So much stunning detail in this piece. I can't remember the name, but it was divine! I highly approved. It wouldn't work for every body type, but girls, you know how to dress yourselves to look good, so choose a gown that flatters YOU. This is exactly what Tatum did.
Since the wedding and reception were on the same property, I snuck over and checked it out while the girls were getting ready. It's a church gym/activity center and girl, this place was dressed up and ready for a party!
But back to that ring light…
I'm not sure who was doing hair and makeup, as I'm horrible at networking with folks, but they were very good. So good that many of the girls who are pros at makeup, would allow this team to do theirs. They highly recommended them. I'll see if I can't get their contact info from Tatum and include it here later.
The flower girl was enthralled at everything that was going on. She was getting her makeup done as well and very excited to be a part of the day.
She kept watching and studying everything around her. And I was in love with her sweet pink toes!
The dress detail and the hair detail were just inspiring me to take more and more photos.
I hardly wear any makeup in real life, but I'm seriously in love with it. LOOK at all these brushes! So much fun watching this creation. I follow a few you tube makeup people just because it's so dang cool.
When the boys arrived, we were already 1/2 way through our day. I swear guys have it so easy on wedding day. Just make sure you shower and grab your stuff, right?
I know you've seen these robes before. Flowers on a pretty robe for the girls to wear before hand. YES. I get it. It's been done. But come on! They are so pretty and everyone feels pretty in them. So who cares if it's been done before, it works. I like it. I approve. BRAVO, Tatum!
These two hand wrote letters to each other and then read them before the ceremony. They opted not to do a first look, so the only pictures before hand that I would call "camera aware" were of the bridal parties. Nothing with the bride and groom. But these two? Definitely thinking about each other. I mean, I respected their privacy and all, but those letters? The small part I read? Super good. I hope they keep them and treasure them forever. I wish I had done this with Devin. LOVE!
I mean, seriously…how pretty are these girls?!?!
Tatum was simply chilling enjoying the conversation and waiting for her time to shine.
Momma and the dress. Now this is important. Sometimes. Every bride is different. But I think, as a mom of two daughters, that I would definitely want to be there when my girl's get dressed. There's a transformation that takes place once that gown is put on. I mean, you just feel different, look different and it's more real. Like HELLO! Baby girl is getting married!!!
Haley, her SIL helped her with her shoes and had to let her ring shine along with all that gorgeous BLING!
And Mr. Callan? Yeah, you are turning out super fine. Just sayin…
These two celebrated a full Catholic Wedding Mass.
As she was waiting for the church to fill, and fill it did indeed, Tatum waited in the crying room. A few nerves, a few laughs…
The friends and family that these two humans had involved with their wedding were just AMAZING! So much fun and so much love!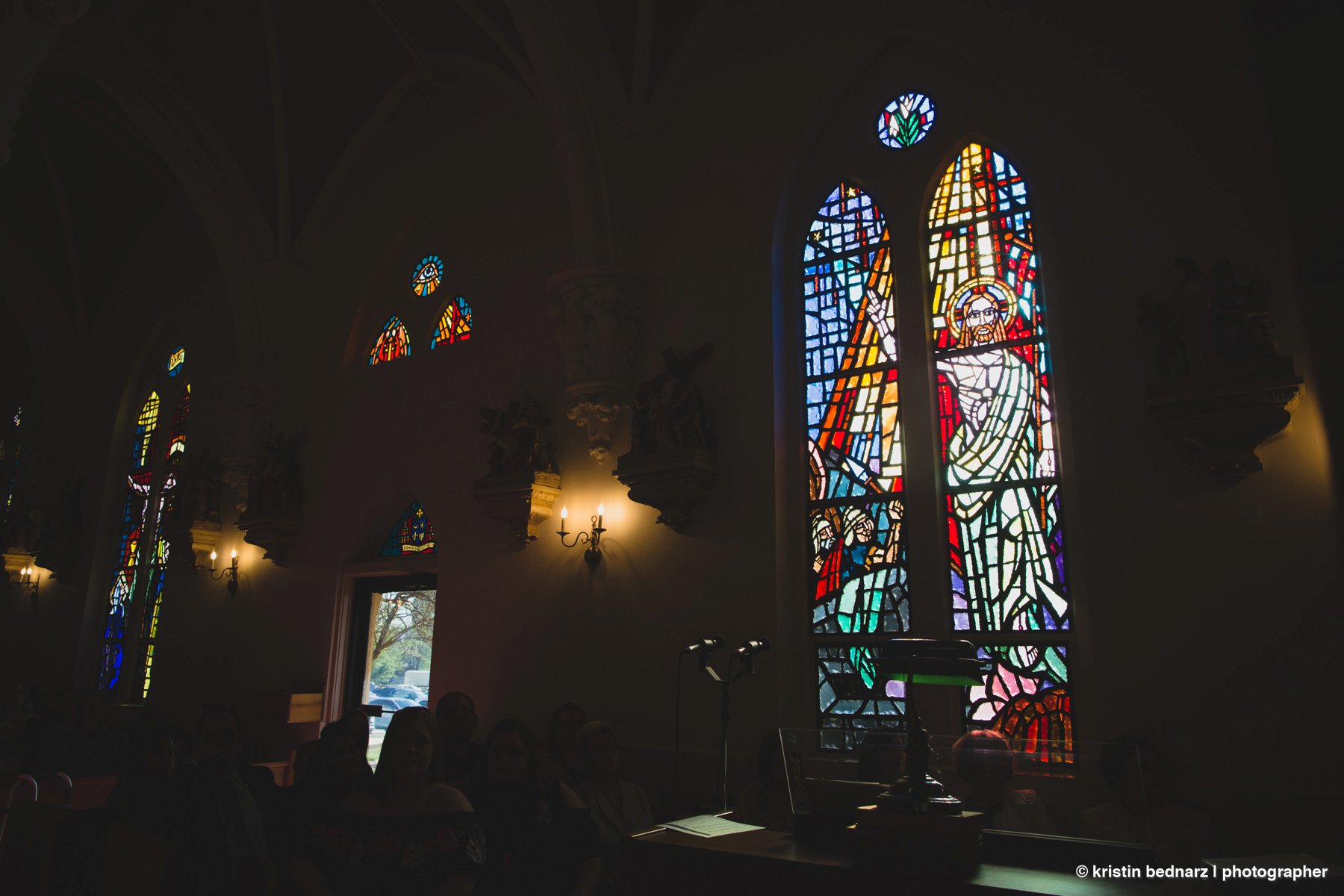 And this church? My home church is St. Joseph in Slaton. I'm Catholic as well. And I've always loved weddings in a church. Don't get me wrong, the wedding venues are gorgeous and great location for many folks. I like the variety in choosing a wedding location these days, but I was married in my church, so when I get to document a hometown church wedding, I instantly feel at home and happy.
That glass though. HELLO!
No, Callan was NOT bending down to catch his bride…
this sweetie had a long walk and needed a friendly face. Too precious!
When it came Tatum's turn to walk the walk, all eyes were on this groom. How would he react? Would he cry?
He held it together, but I'm pretty sure he was having trouble breathing. LOL
A quick glance at her girl posse.
They had a kneeler during mass and I loved the interaction between these two.
Just a gorgeous space for the sacrament of marriage. BRAVO!
I mean really? How cute are these two?!?!
Blessing the rings with Holy Water.
Not everyone was as entertained as I was.
That light pouring through the church windows was so enticing, I could hardly take my eyes off the crowd. This is Tatum's mom and dad during the mass.
More cute moments with the couple.
The neat thing about a Catholic mass is time. Typically at a wedding, I have only 15-20 minutes and that's a rush to get people in the crowd responding to what is going on around them. With a Catholic Mass, you have more time to capture those involved.
When he grabbed her face for the kiss…ALL THE FEELS!!!!
A quick walk about and back inside for Family Photos.
I could have photographed these two all day long, but we had a party to go to. A BIG Community PARTY to celebrate these two.
We started with the cakes. And it was so packed it took me a while to roll back there by them. This place was FILLED wall to wall with people and food and just merriment!
I used this photo as their gallery cover. I LOVE it!


Munday is a Catholic Community, a TEXAS Catholic Community with ties to Eastern Europe. I didn't ask, but the Bufkins more then likely had relatives that came from there. Whatever the case, have you ever heard of a Grand March? From my research of photographing them, having one at my own wedding and dancing in them, it's a way to KICK off a big celebration and get everyone on their feet and ready! And if everyone is on their feet, they can then move the table and chairs they were sitting at and make more room for dancing! LOL. Tatum and Callan had a Grand March at their reception and it was so much fun! Basically they end up in the middle at the end of this dance (and they play polka music) and then the circle around them, collapses on them, AND THE PHOTOGRAPHER until the couple starts their first dance. it's crazy! It's energetic! And it's so much fun!!! I highly recommend it for those of you that are on the fence about having one at your wedding. SO MUCH FUN!!!

Here's the collapse before the couple's first dance. What did I tell you? INSANE!
I loved the lighting in the middle of the dance floor. Well done, decorating committee!!!

The moments between Tatum and her dad were so precious. I wonder what they talked about?
These two here? (Haley's mom and step dad… Kamille and Steve) When you see them, hug them for me. They totally took care of Summer Zoe and I. We were so hungry and the food was going fast, they grabbed us some plates and saved us a couple of chairs. We were staying at the same house in town, but Summer and I left after the reception to head back home. We had plans with family the next day and wanted to dodge the deers on the way home to spend time with them. CRAZY! I know.
We danced well into the evening and part of the next day. NOT KIDDING. And I loved every second of it!!!
And I'm sure these two loved it as well. It sure looked like it by the photos I made with them.
We handed some folks some sparklers and prayed to God that they wouldn't light us on fire, and cheered as the couple left the building.
Best wishes you two!!! May you have a long life filled with lots of celebrations and love!!!
Thanks for reading, folks.
Love does,
Kristin