the one where Kody + Lauren get married
Someone's back from their honeymoon and it's time to share the wedding photos!!! I'm so excited to share these. I'm so excited to share LOTS of photos of many weddings this summer, but I'm starting with this one. I know, out of order and I'm sure to piss someone off, but a girl who's behind has got to jump in when she can and start swimming. I'm swimming.
Lauren is family. Kalyn, my oldest and Lauren went to school together at Cooper when we moved the girls to public school. They attended St. Joseph for elementary. These two grew up together, played ball games together, went to prom and danced with boys together. And even though they attended different schools, they always stayed friends and for that, I'm very thankful. The Heinrichs are good people. Good family and I love them so.
Okay, on to the pictures! Because let's face it, that's all you really wanna see, right?
Lauren started her day off with breakfast. Her and the bridesmaids went to
Kody met the guys @ 4ore Golf for some laid back fun. I met them there for a while to see who the best golfer indeed was.
Lauren's dress was simple elegance at it's best. BEST I tell you!
When I quizzed Lauren way back, about the type of wedding she would wanted, all she could say was "dripping in romance, elegance and completely different" then what she had witnessed before. And she's witnessed a few, let me tell you. So, when I walked into the bride's suite at Kitalou, I saw the bouquets and knew she had nailed it. DONE! BRAVO!
and Lauren's bouquet was AMAZEBALLS! I'm sorry! But just gorgeous! All you other bouquets can just quit because YOU'VE BEEN BEAT!
and can we just talk a minute about these shoes? I mean seriously!!!! Jessica Simpson never disappoints.
Suede and diamonds baby. Now there's a name of a new country band. Or a great online boutique. LOL
Mommas were everywhere this day! Cari is on the left, with Shelley, Lauren's momma on the right. I think they were discussing body parts or dancing. Not sure.
So much laughter this day!
This is study visually of how bridesmaids put on their heels. Comments?
why hello there, pretty bride.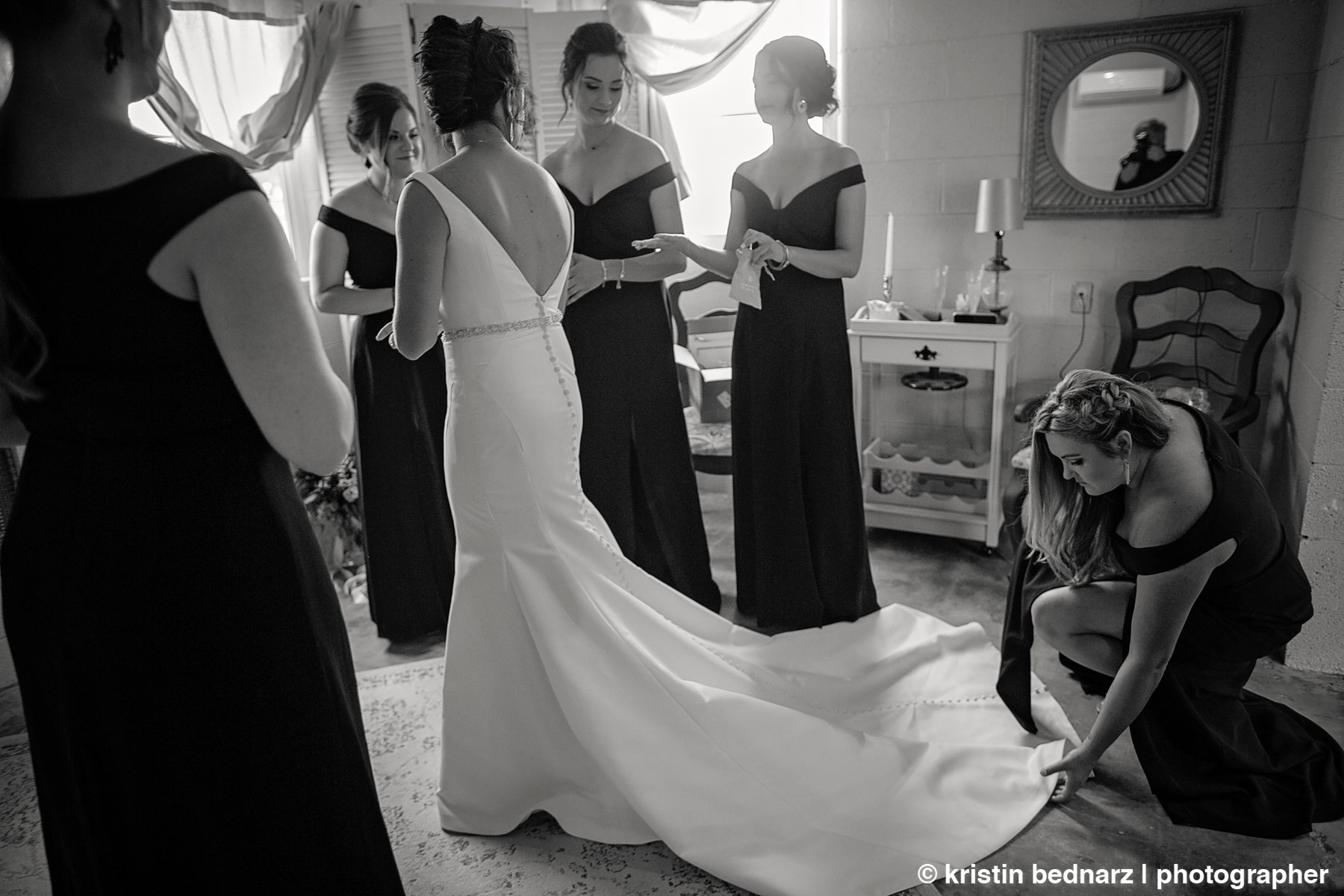 Lauren and Kody were having a nuptial mass @ 5 PM at St. Elizabeth's. We were worried all week about the rain and even though pictures at the church are great, she really wanted a natural element. This was the prefect stop. We were here once before for prom pictures. I think? Wait. Maybe that was Summer Zoe. Either way, it worked great! AND THE SUN SHINED THROUGH!!!!
Such lovely Heinrich Girls!
Once we scooted Lauren to the church, Kody showed up with his guys. They smelled soooooo good! Gosh! And looked so nice!
We then met his mom and dad at the church for some photos. Quick and easy and don't make 'em sweat. That's my motto.
Kody had some downtime while guests arrived and I'm guessing he was discussing the mass. Who knows? What I do know is he has such a way with people and such a good listener, he makes you feel like you are the only one in the room when you are having a conversation. Great trait to have. I need to shut my mouth and listen more to folks.
and from this point on the fun began! If you've ever been to mass, you know they can last a while and yes, when getting married, there are still vows, but you have some "down time". Lauren LOVED her wedding! She talked to Kody during the downtime, waved at me a time or two and just enjoyed every second of it. LOVED watching her!
This little guy loved mass as well.
We took a few quick portraits and then headed to Kitalou for the PARTY! And what a party it was!!!!
I've spoken about a Grand March before on this blog, but I've never photographed or witnessed one this large. Like in tunnel dancing large. It went on for well over 20 minutes and people were just loving it! Me? I got pinned a time or two like that Centipede game from the 80's. HELLO! CRAZY! So much fun though!!!
Check it out!!! So many people!!!!
And then, it was dancing time…the two of them and then their parents. JUST AWESOME! Oh, and cool moment…
When Lauren danced with her dad, everyone sang!!! It was a song many folks know and they belted it out in their best celebratory voice. I loved it!
I'll try and post the photograph that inspired this image. It's missing eye black to be authentic, but the spirit still shines through.
They ended the evening with a dance just the two of them. Well, and me and some family. LOL
Congrats, you two! We love you madly and wish you LOTS of babies and LOVE in your futures!!!
I'm trying to add more details to my blog posts to help future couples dream about their days. Here's some quick questions I asked Kody and Lauren.
What was the most memorable moment of your day?
Kody: seeing Lauren for the first time in her dress as she walked down the aisle with Burt.
Any advice for future bride/grooms? The day goes by faster than you can imagine so try to take in as much as you can and have fun.

Funniest moment of your day? Hearing from Burt that his sister and brother in law got a vehicle stuck while attempting to go to the Heinrich house and him pulling them out on a flat bed trailer.
What were your songs? Our first dance was to Trains I've Missed by Walt Wilkins, For the father/daughter dance, High Cotton by Alabama and then for the mother/son dance, You Got A Friend In Me from Toy Story, by Randy Newman.
If you could do it all over again, would you change anything? No. Was a great day.
Where did you go for your honeymoon? Lake Tahoe, NV (I hear there was a glider involved? If you run into them, ASK. Such a cool thing to do if you aren't scared of heights. Yep. I is scared.